You can save by booking at least 30 days before arrival

You are here
The other side of Venice: the lagoon islands
The other side of Venice: the lagoon islands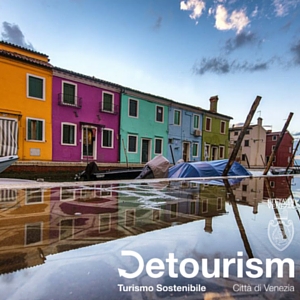 The Island of Burano; the pearl of the Venetian lagoon

The Island of Burano is known the world over for the lively colours of its houses and the secular seafaring tales that survive in legends entwined with this island See the itinerary in PDF
The Island of Torcello; the origin of Venice

Torcello, the first lagoon island to be inhabited. It was a favourite place for royalty, stars from the entertainment world, heads of state and above all, American writer Ernest Hemingway, who spent long periods of his life here. A documentary on the Island of Torcello called #Habitat Torcello is in the process of being filmed; it tells the story of the island's ultra millennial life through its ten inhabitants, guests and travellers. See the itinerary in PDF
The Island of Mazzorbo; the ancient major lagoon village

Near the more renowned Island of Burano is Mazzorbo, which has extremely ancient origins – probably it was already inhabited in Roman times. It once had ten churches, of which today there is only a solitary fourteenth-century bell tower that houses the oldest bell in the lagoon, dating back to 1318, and the Church of Santa Caterina d'Alessandria, a convent of Benedictine nuns which was the residence of the young ladies of the Venetian patrician families. See the itinerary in PDF
The Island of San Francesco del Deserto, an oasis of peace and prayer

A small island that houses a convent of Friars Minor, one of the last lagoon retreats, an ideal place for those who want to spend a day or two in silence and meditation. See the itinerary in PDF
---
There are only a few other places in the world where you can forget the present and plunge into a suspended out-of-time atmosphere that is still felt in some of the lagoon islands, such as Lido and Pellestrina. Who could have ever imagined that here, not far from the hustle and bustle of St. Mark's Square with its crowded museums, cafes and shops there are two nature reserves, Oasi Dune degli Alberoni and Riserva naturale di Ca' Roman stretching over dozens of hectares.
Trip to the Island of Pellestrina

Small hamlets with colourful houses, a couple of restaurants where you can taste genuine lagoon cuisine, sandy beaches known only to the islanders, a quiet promenade for walks and forty hectares of the Riserva LIPU di Ca' Roman nature reserve. A hidden corner of the lagoon, an ideal retreat for those who love secluded places. See the itinerary in PDF
A popular place for the Venetians and tourists thanks to its golden sandy beaches and the Venice International Film Festival, the Lido includes a rich heritage of gardens and natural oases to be discovered on foot or by bike, even out of season.
---


In summer the historic centre of Venice can be very hot, so why not visit the city during the cooler hours of the day and choose more 'refreshing' itineraries during the hottest hours? There are boat trips to the islands of the lagoon, walks in the natural oases, a day at the Venice Lido beaches, and why not end it with a nice bike ride to spend your stay in the city in a different and original way!
Barca xe casa (a boat is a home), is a typical Venetian turn of phrase, and it's easy to understand why: this is a city that has been built to navigate around. Nowadays the bond with water is kept alive mainly by the craftsmen who restore and build the lagoon's rowing or sail boats.
For the Venetians, Poveglia is the island for a Sunday boat trip, for barbecues and legs in rowing races. The island used by fishermen to store their nets. The Island, which was put up for auction by the State Property Office, was the centre of international interest due to the incredible effort made by the local people to buy it. The Poveglia Per Tutti Association wants to open this part of the lagoon to the city.
If you are looking for an idea for a slow and sustainable trip, you can experience a day with skilled fishermen on board a fishing boat in the Venetian lagoon. Go out on a boat with the fishermen, listen to their tales, watch them closely while they fix their nets and divide their catch; this is called fishing tourism.