You can save by booking at least 30 days before arrival

You are here
Beaches
The beaches of the Venice Lido

The Venice Lido is a favourite destination for Venetians during the summer. Its beaches are places of great charm and elegance, the gently-sloping seabed allows even the youngest children to bathe in tranquillity, thanks also to the protection of the San Nicolò and Alberoni dams and countless others which project from the shore in front of each bathing area. Today, the facilities guarantee guests holidays in comfort.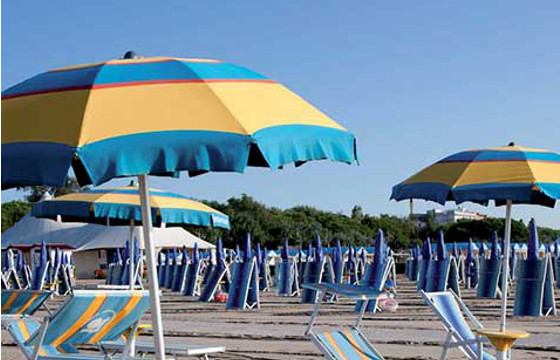 Private beaches
The main feature of the equipped beaches of the Lido is the capanna: a large cabin with a veranda and an awning fitted to the closed structure. The bathing establishments are many and they all give the opportunity to hire the equipment (capanna, mini-capanna, deckchairs, beach umbrellas, sun loungers, and so on) for different periods; by the day, week, month or entire season.
Free beaches
The Venice Lido also offers areas of free beach such as the sand dunes of San Nicolò and the Alberoni, the Murazzi rocks and Bluemoon beach, popular with tourists because it is strategically close to the Santa Maria Elisabetta vaporetto stop and also because it is equipped with showers and bathrooms.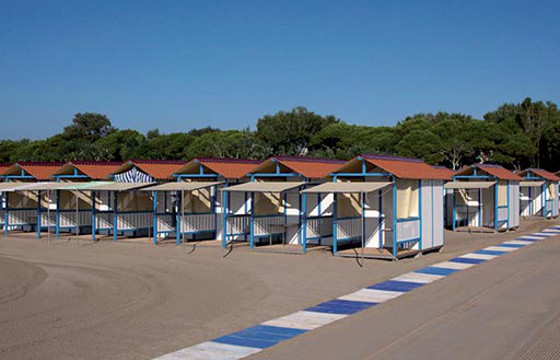 Alberoni beach is instead an oasis protected by the WWF, very impressive because of its size and semi-wild character, the ideal habitat for many marine birds including rare bee-eaters and plovers, in addition to the more common egrets and gulls.
How to get to the Venice Lido
The stop for the Venice Lido is called Santa Maria Elisabetta.
It can be reached from Piazzale Roma or the railway station by using ACTV waterbus route No. 51 and 61 which pass through the Giudecca Canal. If you are not in a hurry, you can arrive in an hour by vaporetto line 1 which passes through the Grand Canal and also stops at Rialto and San Marco. ACTV route No. 2 instead misses out some stops and arrives at the Lido faster.
From Chioggia via route No. 11 which uses a combination of bus and ferry boat to cross two inlets of Pellestrina Island.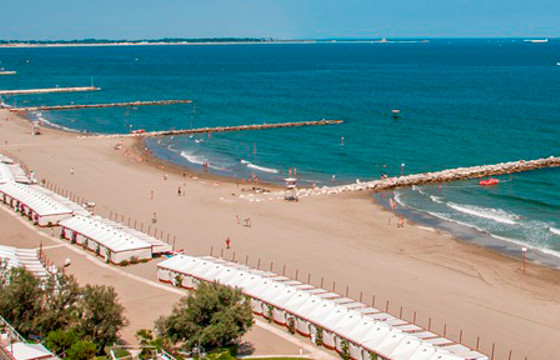 From Marco Polo International Airport or Murano one can use the Linea Rossa or Linea Blu (Red Line or Blue Line) speedboats managed by Alilaguna.
From Burano-Treporti-Punta Sabbioni by ACTV's LN line.
From Punta Sabbioni or Tronchetto by ACTV ferry boat.
Upon arrival at Santa Maria Elisabetta, "Giralido" bus lines A, B, and C are available, in addition to land taxis.
BUY ACTV PUBLIC TRANSPORT TICKETS

Beaches on the Venetian coast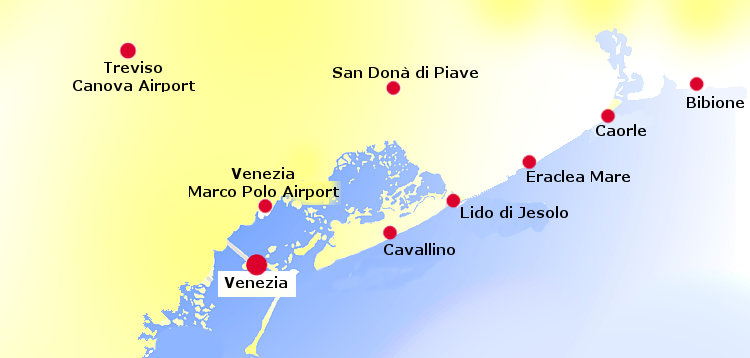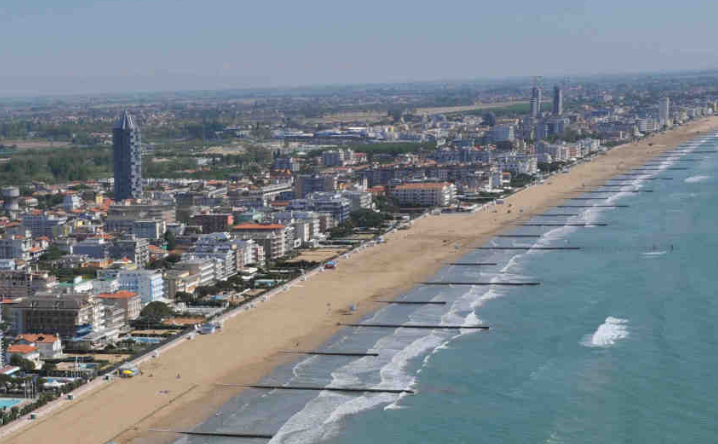 - LIDO DI JESOLO
- CAVALLINO
- BIBIONE
- ERACLEA MARE
- CAORLE
BUY bus-connection EXPRESS ATVO