01

SAVE UP TO 28%


02

FORGET THE QUEUE!


03

BUY YOUR CITY PASS IMMEDIATELY

You are here
Tell me where you want to go: timetables and routes
Tell me where you want to go: timetables and routes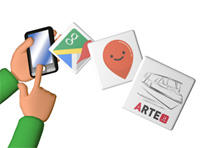 ACTV public transport timetable published in OpenData format is now available in many ways, thanks to AVM group collaboration with some of the main Internet service developers for navigation software.


Now, wherever you are, you can find out how to reach your destination (on foot or with the aid of ACTV means) by consulting:
Google Maps downloadable from Google Play and App store
Moovit,a free social app about public transport, where information about transport means is shared by its users in real time. You can download Moovit from Google Play, App store and Windows Store
Guida di Venezia Unica - the official Venezia Unica tourist guide - conceived mainly for moving about Venice, supplies vistors with waterbus timetables. You can download the guide from Google Play and App store

IN-DEPTH ANALYSIS

---
Municipal Council of Venice "Open Data"
The same information, supplied to the above-mentioned Internet service developers, presented in a shared standard format (GTFS, general Transit Feed Specification) is now published in the "Open Data" section of the "Municipal Council of Venice" website. This is a new perspective, which thanks to Internet, has positively influenced many countries, and satisfies a new inalienable right to information.
And, because of "Open Data Venezia" group insistence, and policy recommendation 175/2012, the municipal administration introduced Open Data procedures and uses licenses permitting the re-use of information for commercial purposes.
Aware of this, in 2013, the Venice Municipal Council started a project whereby the Administration's digital code (Leg. Decree N. 82, 17th March 2005) was activated and lead to the dati.venezia.it portal. The AVM group also contributed by supplying local public transport timetables and opened its database to the public.
This allowed its inclusion in the best apps on transport and in the official VeneziaUnica app – the interactive city tourist guide, developed in partnership with Arte.it. It created new prerequisites for any developers wanting to implement new services. "Open Data".
---
Guida di Venezia Unica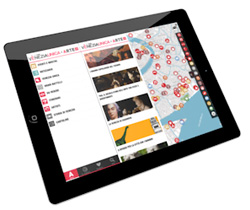 The Guide is a useful in learning about interesting historical and artistic sites in Venice: museums, exhibitions, squares, monuments, churches, buildings, palaces and gardens. You can check official times for local public transport and organize your visits as best as possible. Thanks to geographical references about these interesting locations, you can programme your visit according to the time you have. More than 300 interesting locations described, descriptive fact sheets associated with photographs and artists' biographies. The service comes complete with a list of addresses for amusement, restaurants, markets, bookshops and shopping places.
The app allows you to consult times, landing stops for navigation lines and local public transport ticket office addresses.
The app gives an updated calendar of forthcoming events, and those in progress (shows, events and art exhibitions, Biennale) together with a brief description of the event and where it is located.
The app keeps you updated with a news services on main events, public transport and main exhibitions in Venice.
You can download it from Google Play and App store