01

CREATE YOUR 'VENEZIA UNICA'


02

CHOOSE SERVICES


03

COLLECT THE CARD

You are here
Create a card
Attention

to continue with the purchase you must first 'create' at least one card, using the form ADD CARD (if you are using a smart phone or tablet, click on
up on the right to open the "Add Card " and "Cart" window) and associate with each card at least one product. To return to the main catalog, click here.
---
How to buy a Venezia Unica City Pass

To purchase on the website, you only need to do a few simple steps: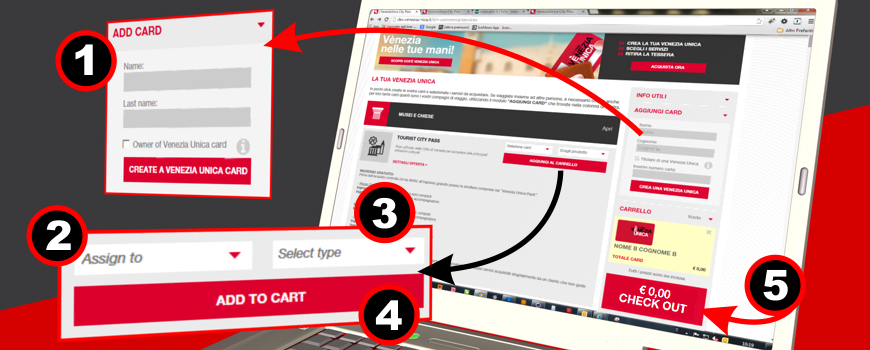 Digit your name and surname in the "Add Card" box on the right-hand column and '

create' your Venezia Unica card

.
If you have travelling companions repeat the operation for each of them. You can do this at any time. If you are using a smart phone or tablet, click on "+" up on the right to open the "Add Card " and "Cart" window.
Select the card belonging to the person on whose behalf you want to purchase;
Choose the type of product for that person.
Click on "Add to cart"
Once finished all the purchases, click on " Go to Cart list"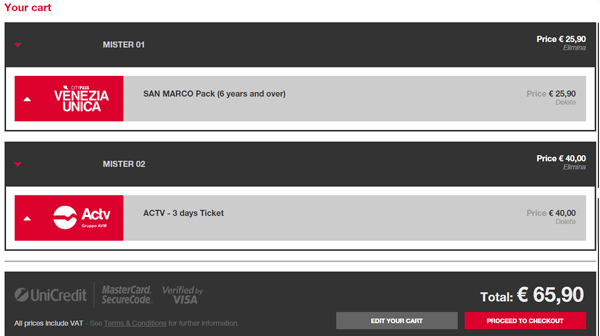 On the Cart list page you will be able to check and/or change your purchases, or continue.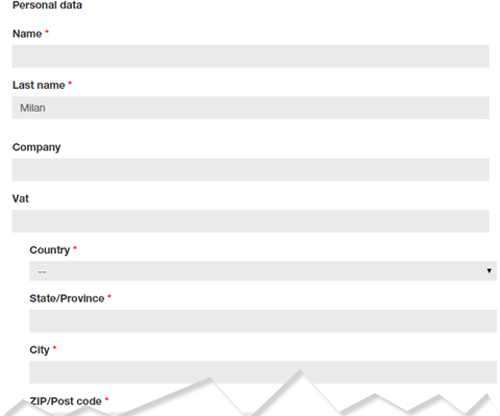 On the next page, enter the required personal information, and read carefully all the service terms and conditions.
Choose the preferred method of payment (credit card or paypal) and continue with payment.

If your payment procedure is correct, your voucher will be displayed. Print it and keep it. 'Pick-up' and 'how-to-use' details for each 'product' you have purchased will be printed on the voucher. You will receive a confirmation email with a 'link' to see your voucher at any time.
Should you lose your confirmation email, you can recoup details of your purchases by searching for your voucher.