01

SAVE UP TO 30%


02

FORGET THE QUEUE!


03

BUY YOUR CITY PASS IMMEDIATELY

You are here
Tell me where you want to go: timetables and routes
Tell me where you want to go: timetables and routes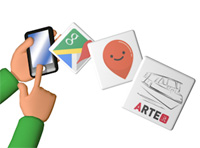 ACTV public transport timetable published in OpenData format is now available in many ways, thanks to AVM group collaboration with some of the main Internet service developers for navigation software.
Now, wherever you are, you can find out how to reach your destination (on foot or with the aid of ACTV means) by consulting:
AVM OFFICIAL APP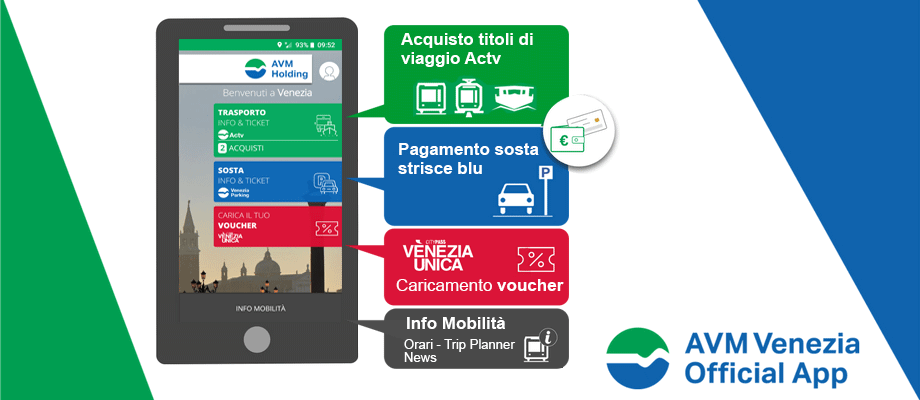 The App is available for iOS, Android platforms. Installation is recommended only on smartphone-like devices.
The supports are compatible with the system whose height is less than 14 cm and the width is less than 9 cm (thus excluding tablets, even those 6 inches).
VOUCHER VENEZIA UNICA - ACTV TRANSPORT TICKETS ONLY
Click 'Active' to use the tickets previously loaded. The validity of the tickets will start from that moment.
Entering a Venezia Unica PNR in AVM App is to load ALL the tickets of the voucher on the same smartphone
Opening the turnstiles by Actv pier, please insert your smartphone in the reader to read QR code of Actv tickets
USE AND ACTIVATION OF ACTV TICKETS
Once you enter PNR code, the tickets will be loaded into the "My tickets" section. In the "To be activated" area are all tickets purchased but not used.
By choosing the ticket you want, it is then possible to proceed with its validation. When validation is completed, the ticket is then moved to the "Active".
A QR code is generated by the APP when the purchased ticket is activated and visualized on your smartphone screen. Barcode readers with special slots have been installed for this purpose at all turnstiles. You must insert your smartphone.
Please set up the bightness of the screen to the maximum. The QR code is visualized, the ticket is validated, the turnstile opens and then you extract your smartphone from the slot.

---

IMPORTANT:

- When entering your PNR in the "AVM Official APP", all ACTV tickets on the voucher will be uploaded onto the same smartphone device.
- Once the ACTV tickets have been uploaded from the "AVM Official APP" they cannot be transferred to any other device and/or downloaded again from an automatic ticket machine.
- To use these uploaded tickets, click "ACTIVATE" on each one of them. The period of validity will start from that moment on. NOTE: By clicking on "ACTIVATE", the validity of the transport tickets starts
- To open the turnstiles at the ACTV landings, use the appropriate slot to read the ACTV ticket QRcode
In case of need, contact customer support at app.support@avmspa.it

---