You can save by booking at least 30 days before arrival

You are here
Bici Park
PARK YOUR BICYCLE IN VENICE

In Piazzale Roma, the main access point to Venice, there is a new secure parking service for bicycles inside the Municipal Garage, made of 100 boxes that can be purchased online or directly at the parking. Comfortable and safe, BiciPark Venezia is the ideal solution for those who want to reach the city by bike, moving for study, work, tourism or simply for a tour to discover the cycle routes of the Lagoon.
This confirms Venice as a cycle-friendly destination. The structure is managed by AVM S.p.A., a company wholly owned by the City of Venice.
---
SERVICES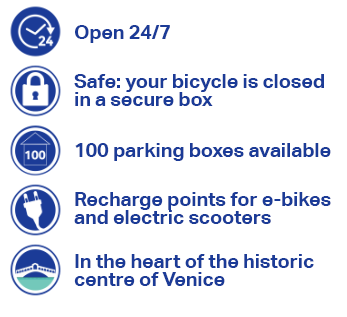 ---
The box/locker can be purchased online, by accessing the web page bicipark.avmspa.it.
Fully automated (unattended facility).
Vehicles allowed: bicycles (also electric bikes) and scooters (also electric scooters).
Monthly tickets can be purchased and added to the City Pass Venezia Unica; please, contact Venezia Unica ticket points in Piazzale Roma or in Mestre Piazzale Cialdini (Via Lazzari, 32).
Check-in/check-out and payment are made by occasional users directly from one of the 4 totems in the BiciPark, simply following the on-screen instructions.
Video surveillance system and a small station for small maintenance services (bike pump, etc.).
FARES

Full 24-hour period
BIKE
€ 10,00
Full 24-hour period
E-BIKE
€ 11,00
Monthly ticket
BIKE
€ 25,00
Monthly ticket
E-BIKE
€ 30,00
Full 24-hour period reserved for Venezia Unica card holders, upon online reservation on(bicipark.avmspa.it)
€ 5,00
Accepted payment methods: credit card / ATM / cash


HOW TO GET THERE

The BiciPark is located on the first basement level (floor -1) of the Municipal Garage, at only a short distance from the historic centre of Venice.
The facility can be reached by following the signs along the cycle path of the Ponte della Libertà bridge. The entrance is in front of the driveway access of the garage.
---