You can save by booking at least 30 days before arrival

You are here
HOW TO BUY A VENEZIA UNICA CITY PASS
How to buy a Venezia Unica City Pass

The Venezia Unica City Pass may be purchased easily and safely online before your visit to Venice. The voucher you receive by email is valid for 24 months (2 years) after date of purchase. However, tickets purchased for guided tours on specific dates must be used on the date they are reserved for, and no changes may be made subsequent to purchase.
If you wish to insure your purchase in case of cancellation, this option is available and will be offered at the end of your purchase process. For further information about insurance, click here.
To begin your purchase, you must first create a separate card for yourself and each person traveling with you. For each travel pass or admission ticket or service that you purchase, you will be asked to select the card on which to load the product before adding it to the Cart. At the end of the process, your Cart will contain one or more Cards, each of them containing the tickets or services you are purchasing for the person named on the Card.
When the purchase has been completed, and payment has been made, you will receive confirmation of your purchase via e-mail, with the vouchers (one for each Card) containing a personal booking code number (PNR) you will need to collect your public transport tickets and bar code or QR code for direct admission to the museums, churches and other tourist and cultural attractions you have selected. (See "How it Works")

To make your purchase, simply follow these few easy steps.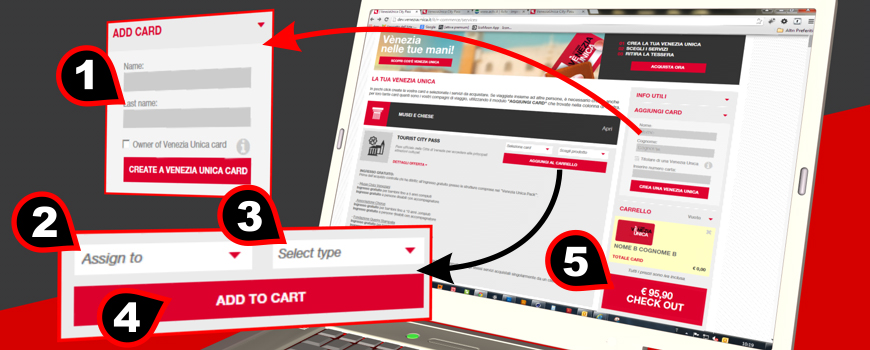 To create the Card, fill in your name and surname in the "Add Card" box in the right-hand column, and click on "CREATE CARD" to 'create' your Venezia Unica card. If travelling with others, repeat the process for each person to create their Cards. You may do this at any time during the purchase session.
If you are using a smart phone or tablet, click on "+" at top on the right to open the "Add Card" and "Cart" window.

Select the card belonging to the person for whom you are purchasing a product from the "Select Card" menu.

Choose the product you wish to purchase from the "Select Product" menu.

Click on "Add to cart".

Repeat steps 2 to 4 for each product you wish to purchase. When you have finished selecting all the products for all the cards, click on "CHECK OUT" to review your Cart and complete the purchase.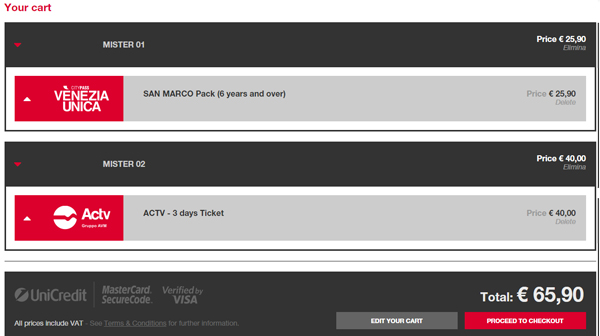 On the Your Cart page you will be able to review your order, change it if necessary, or continue.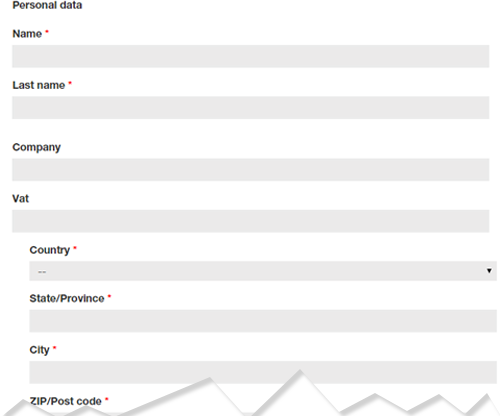 On the next page, enter the required personal information, and carefully read all the terms and conditions of service.
Choose your preferred method of payment (credit card or paypal) and proceed to place your order.

When your purchase is completed, your voucher with the PNR booking code and bar code or QR code will be displayed. You may print it or more comfortably save it in your smartphone or pc so you can then use it directly once you arrive in Venice. The voucher details the instructions on how to collect and to use each pass you have purchased. You will receive a confirmation email with a 'link' to view your voucher at any time.
Should you lose your confirmation email, you can still retrieve the details of your purchase in the find your voucher section.