01

SAVE UP TO 28%


02

FORGET THE QUEUE!


03

BUY YOUR CITY PASS IMMEDIATELY

You are here
Naval Historical Museum
From 24th May 2015
You could visit the SHIPS PAVILION - Rio della TANA, Castello 2162c (near Naval Historical Museum of the Italian Navy)


Every day: 8:45 am – 5:00 pm (last entry 4:30 pm)


---
SHIPS PAVILION

The Oars Workshops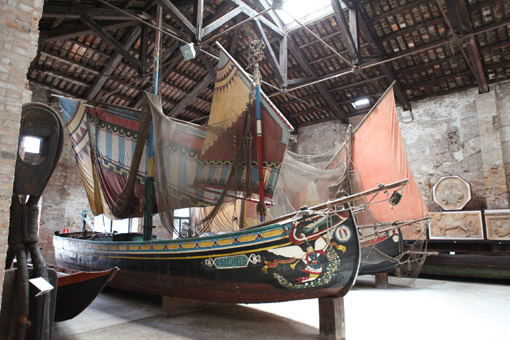 The building, now housing a detached section of the Venice Naval Historical Museum collection of historic ships, consists of three serially arranged units, and of a fourth one, of similar size, orthogonal to the first ones.
The building was built in the mid-sixteenth Century as an oars workshop and storage facility. Shortly after its completion in 1577, it was temporarily adapted to house the Great Council, the main government body of the city, following the disastrous fire that had destroyed much of the Palazzo Ducale, making it useless for a long time.
The rooms basically retained their function of specialized workshop for the production of oars, supported by a blacksmith workshop and storage spaces, until the mid-nineteenth Century.
Following the reorganization of the Arsenal started after 1866, when Venice was annexed to the Kingdom of Italy, the premises were used as storehouses and workshops by the Military Engineers.
In this period the roofing was restored, with the introduction of an interesting bidirectional system of iron ties which integrated the wooden roof trusses.
Since 1980, the area of the oars workshops has been known by the name of "Ships Pavilion". It houses vessels of great historical importance as an annex of the museum.

Location PADIGLIONE DELLE NAVI
Rio della Tana Castello 2162 c, Venice
Close to the Arsenal bridge

Vaporetto ACTV: Line 1, 4.1, 4.2 stop Arsenale
Opening Hours open daily 10 am – 5 pm
The ticket office closes half an hour before the closing time
http://www.visitmuve.it/en/museums/naval-historical-museum/

---
Guided Tour with an authorized guide: Reservation required, please contact ticketing@velaspa.com
---
Naval History Museum of the Italian Navy

(IS CLOSED due to renovation works).
Come and discover a piece of history of Venice admiring ancient and modern boats with a new installations and new tour.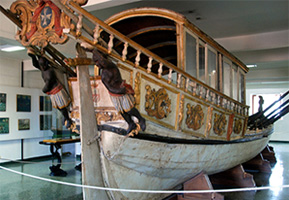 The Naval History Museum is owned by the ltalian Navy which manages if as exhibition space dedicated to preserving an d documenting the past:
" ... to manifest the strength through the ages, of the ltalian naval tradition" (Royal Decree 1919)
The museum is currently housed in a building dating from the 15th Century that was once the Granary of the "Serenissima" (The Most Serene Republic of Venice), in Campo "San Biagio", near the Arsenal,. an area which to this day remains partly under the contrai of the ltalian Navy.
The conservation of the Arsenal' s records and àrtefacts is today entrusted to the Navàl History Museum, the foremost of its kind in ltaly.
Besides the main building, where the exhibition space is organized on five floors, offering 42 exhibition galleries, the museum also includes the Ship Pavilion, originally the oar workshop of the Arsenal.
Naval History Museum of the Italian Navy
Riva S. Biasio Castello 2148, 30122 Venezia
Call Center +39 041 2424