01

SAVE UP TO 30%


02

FORGET THE QUEUE!


03

BUY YOUR CITY PASS IMMEDIATELY

You are here
Fuorirotta: the other map of Venice
Fuorirotta: the other map of Venice



Fuorirotta ("Off-course" i.e. "Detour") is a guide for responsible, eco-friendly and ethical travel in the lagoon. Discover the ''other" Venice: farmers' markets, craftsmen's and fair trade shops, secondhand shops, green parks, organic and zero miles food. "Fuorirotta - The other map of Venice" takes the visitor to the historic city, the islands, and also to the mainland at Mestre and Marghera. Simply download "Fuorirotta", and get around in the city and discover eco-friendly, cultural and local-oriented initiatives, enjoy parks and natural areas, eat organic and zero miles food, shop in craftsmen's and fair trade shops.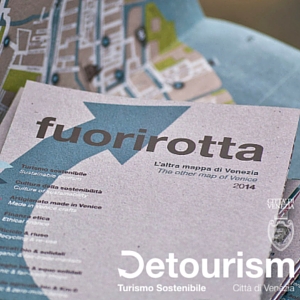 The map shows also parks and nature reserves and the public gondolas which criss-cross the Grand Canal. The map includes an eco-etiquette which contains useful advice for tourists: visit the city on foot, choose the least busy periods, be careful not to drag your trolley on the bridges because it can damage the steps and don't impede others with your backpack on a vaporetto or in narrow streets, when there is high water or when walking on the footbridges.
And so the curious tourist is invited to make his or her own unique trip of discovery, following the fountains, from which spring water of excellent quality, in the streets and in the squares: the map encourages the use of public water and the re-use of one's own bottles in order to minimise environmental impact. Copies of the map are available at the indicated locations and online (www.comune.venezia.it/fuorirotta).
This is a project of the City of Venice in collaboration with the non-profit association AEres-Venezia for Altraeconomia. For more information, write to fuorirotta@comune.venezia.it
The Fuorirotta map is part of the DETOURISM project, which invites you to discover the most authentic and unusual places in Venice, through a special series of thematic maps of the city and its lagoon. DETOURISM is an invitation to a different way of travelling, for all those who love to leave the beaten track and the usual touristy places, in search of the most original, unusual and secret aspects of the city.
ENJOY YOUR DETOUR!
Follow us on social networks for Sustainable Tourism in the City of Venice: we are on Facebook, Twitter (@DetourismVenice), Pinterest, Google+ and YouTube!